Purchase number of RAFFLE for the Huella Animal Foundation shelter - $1,000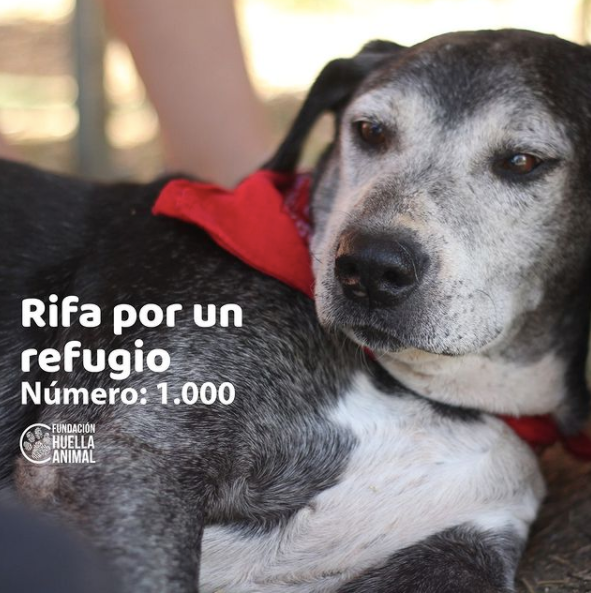 We need a lot of help to achieve this dream and we still haven't reached half the numbers that we must sell to start this path, rent our own place and have our rescued closer to us!

🐕‍🦺 The number costs only $1,000 and to participate you must transfer to:

Name: Animal Footprint Foundation
Current account
Santander Bank
0-000-70-44559-0
Tax ID 65.105.484-2
transferencia@fundacionhuellaanimal.cl
Description: Raffle

💌 And send us the receipt to rifa@fundacionhuellaanimal.cl

It is very important that you leave the description "Raffle" and send us the email! 💙

In addition to how wonderful it is to help, you could win one of these incredible prizes donated by SMEs:

📸 2-hour photo session (Personal, family or as a couple) by @deborahdantzoff
🌸 14x14 tattoo with @camicamps_
👩🏻‍⚕️ Online therapy with @floresdepazchile
🤸🏻‍♂️ Personalized Integral Yoga and Tantra class from @tantrayogatara
🥘 Round snack table for 4 people from @lafiesta_tablas
🐕 Happy Climb, pet ramp from @biodecco
🪴 Gardening kit from @whenuaoficial
💎 1 wonderful bracelet from @carladaniela.cl
🧩 La Negra María collaboration puzzle 1,000 pieces by @the.puzzlequeen
🔗 Handmade necklace with 950 silver and stones from @manila_cl
🧖🏻‍♀️ Deep facial cleansing with @miabeautyspa.cl
🎨 Custom pet portraits by @magdanaranjo
🌿 Calathea plant by @todoplantaspierola
🌱 2 Sansevieria Hanni from @tiendataiquen
🍪 2 dozen custom cookies from @galletinascl
👜 Totebag - Guanaco by @garugachile
🥛 Pack of Greyhound Heart glasses from @mawka_chile
🧢 Jockey Conguillío from @kunturchile
🃏 Personal therapeutic Tarot reading by @hipnonutriosis
🐕‍🦺 Dog collar and leash set from @monpetitchat.cl
🪶 Set of coasters inspired by the hummingbirds of Chile from @vuelvoalsur_com
🧴 Hair cream from @_organic.beautty_
📒 Weekly Planner Set + Mini Notebook + Pencil from @triluz.cl
🗒 Monthly Planner Set + Mini Notebook + Pencil from @triluz.cl
📗 Set Croquera + Mini Notebook + Pencil from @triluz.cl

Together we can make it!
Your Email Address Will Not Be Published. Required Fields Are Marked *
Subscribe to our newsletter and receive a selection of cool articles every weeks